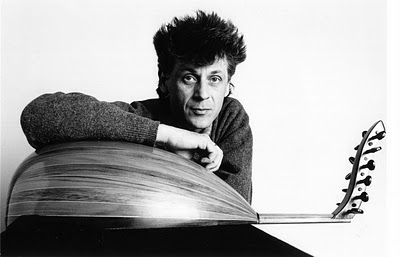 Roman Bunka is one of the most prominent German ud players and guitarists. He was born in 1951. Bunka was a founding member of several of the most influential German rock bands, including avant-garde rock bands like Embryo and Aera. He impressed fellow musicians with his oriental style of guitar playing.
In 1976 he gave his first concert with Trilok Gurtu in India. While searching for a second stringed instrument more suited to his musical development in the direction of modal and microtonality, he discovered the Arabic lute, the fretless mother of the guitar, the ud.
His first solo album, Dein Kopf ist ein schlafendes Auto, recorded in 1980 (re-released by ATM-records) presented a blend of avant-garde rock with Oriental melodies. Released in the same period was the more jazz / rock fusion oriented album Live!, recorded in 1979 with the group Aera. After concerts with Okay Temiz in Turkey, Bunka chose Cairo as his musical refuge in the Arab world during the 1980's.
Bunka was so immersed in Egyptian music that he even represented Egypt with the Nubian singer Mohamed Mounir as arranger and ud-soloist at the Mediterranean Culture Festival in 1992 in Nimes, France. With solo-concerts in Tunis (Festival de la Medina), Cairo, Damascus, Aleppo and Beirut as well as in Lanzarote with the group Vox and his performance at the Jazz Festival in Granada he was able to bring his vision of Arabic music closer to an interested World-music audience.
For the feature film Al Oud, directed by Fritz Baumann, which won the Gold Hugo at the 1992 Chicago International Film Festival, he was responsible for the musical direction and for composing the film music. While shooting, Bunka became involved with the Ensemble of the violin virtuoso Abdou Dagir from Cairo, with whom he made the CD Malik-a-Taksim. The films Warshots and Ende einer Reise by Heiner Stadler (Bavarian Film prize 1992) and the music to the film based on three short-stories by Paul Bodies entitled Halbmond by Frieder Schlaich and Irene von Alberti introduced him as a composer who uses his oriental style of sound collages to cleverly transport the drama.
Along with Grace Yoon, he produced several radio-plays for the Bavarian Radio, one of which, Tunguska-Guska, was awarded the Prix Futura 1993 by the BBC. Tunguska-Guska and their latest radio-play "Earborn" are both available as CD.
A live-recording of his project Color Me Cairo featuring the Fathy Salama Ensemble from Egypt and Malachi Favors from the legendary Art Ensemble of Chicago has appeared on the ENJA label and received the German Record-critics Prize. In 1998 he composed and recorded with the Spanish Flamenco guitarist 'Tomatito" the music for the cinema movie Bin ich schön!?, directed by the famous German film director Doris Dörrie.
Ever the musical pioneer, in 1999 Bunka and his group, featuring Indian percussionist Ramesh Shotam and Japanese violinist Hiromi Nishida, performed at the first Oriental-Jazz-Festival in Beirut. To celebrate the new millennium, he participated with Mal Waldron, Jeanne Lee, Tri-O, Peter Dicke and Blixa Bargeld in Grace Yoon´s multimedia-event Illusion des Endes.
The year 2000 was launched at a live concert event in front of the Great Pyramids at Giza with Egyptian singer Mohamed Mounir.
Discography:
We Keep On, with Embryo (1973)
Surfin, with Embryo (1975)
Bad Heads, Bad Cats, with Embryo and Charlie Mariano (1976)
Aera Live, with Locko Richter, Klaus Kreuzeder, Lutz Oldemeier, Helmut Meier-Limberg, Freddy Setz (1979)
Reise, with Embryo (Schneeball, 1980)
Germanistan, with Dissidenten (1990)
Malik a Taksim, with Abdo Dagir (Enja, 1992)
From Spain to Spain, with Vox (Erdenklang, 1992)
The Jungle Book, with Dissidenten (Exil, 1993)
Color Me Cairo, with Malachi Favors and Fathy Salama (Enja, 1995)
Enshaallah, with Rahala (United One Records, 1997)
Freedom in Music, with Embryo (2008)
Abadan, with Hammond Schneider (2010)
40, with Embryo (Trikont, 2010)
Author:
Angel Romero
Angel Romero y Ruiz has been writing about world music for many years. He founded the websites worldmusiccentral.org and
musicasdelmundo.com
. Angel is also co-founder of the
Transglobal World Music Chart
. Angel has also produced and remastered world music studio albums and compilations for labels such as Alula Records, Ellipsis Arts, and Music of the World.